Quikr Launches New Brand Identity
Quikr, India's No. 1 cross category classifieds business, today officially launched a new company logo. Quikr's new brand identity symbolises its successful rise to market leadership in the Indian classifieds industry and its transition into a platform that has deep, verticalized offerings in large categories. The evolution of the company's brand is also in sync with the evolution of Quikr's users who have high aspirations, and have increasingly started using Quikr across a variety of categories such as cars, real estate, goods, services and jobs to fulfill these aspirations.
Since the company's inception in 2008, Quikr has been a pioneer in the online classifieds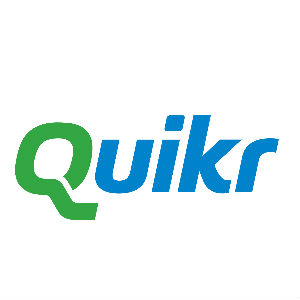 industry and has launched several innovations in its capacity as a market leader. It was first company to product innovations to buyers and sellers, such as the Missed Call service for new users, Maximum Selling Price (MSP) to help users get the best price range for their goods. Earlier this year, the company introduced Quikr Nxt, a messaging based classifieds experiencing which became a resounding success due to the numerous consumer benefits it offered, including user privacy, multitasking and multimedia communication.
Quikr's new slogan "Aasan hai badalna" reflects the sentiment of today's India and instantly connects with young, aspiring Indians who seek to change their lives for the better. Quikr, with an easy to use platform, enables consumers to buy, sell and find things that inspire change in their lives. The company believes that change is essential and even the smallest of change has a multiplier effect that can bring big positive changes in one's life.
Commenting on the rebranding initiative, Pranay Chulet, Founder & CEO of Quikr said, "At its very core, our purpose as a company is to help our users achieve their aspirations and hence enhance their lives. Our platform symbolizes the fact that good things in life are easy to get. Whether people come to us to buy something good or to sell something because they are buying something else, our users always experience positive change when they come to us. Our new logo and brand identity represents this change and the world of new possibilities that comes with it.
The company's new logo and brand identity were crafted by Alok Nanda & Company. Commenting on the launch of the new logo, Alok Nanda, CEO of Alok Nanda & Company said, "We created the brand identity and architecture system after engaging in an in-depth, strategic brand repositioning exercise with Quikr. From a design perspective, the 'Q' in Quikr is a designer's dream and has been fashioned to suggest positive change in its users' lives. The logo retains the blue and green colours for which the company is recognised and the new font is contemporary, yet sleek with a sense of speed which is integral to the name Quikr."
He added, "After working with brands in banking, real estate, education, FMCG and healthcare, it's a pleasure to work with a billion dollar digital brand. The power of Quikr's new identity will truly express itself in the online, digital and traditional media."