Quikr Empowers Common Man Across India with QuikrJobs
Its Pioneering Missed Call Service Aids Online Profile Creation for Masses with no Internet Access
Over 25 lakh active candidate profiles and 16 lakh jobs listed
​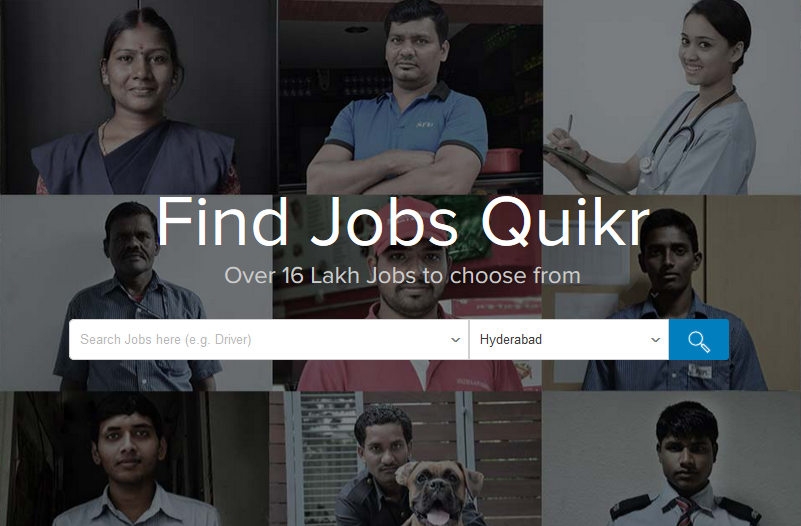 Quikr, India's No. 1 cross category classifieds business, today announced its newly launched vertical, QuikrJobs will focus on Blue Collar, Grey Collar and Entry Level Jobs across India. By bridging the gap between recruiters and a large portion of the country's job seekers that have no access to the internet, QuikrJobs will bring more people to the overall talent pool. Quikr has already been using its own platform to recruit for its call centre operations, sales force and delivery needs.
QuikrJobs provides candidates,
An easy to understand role based jobs search
Multiple profile creation while applying to different roles at no cost
Profile registration through a simple missed call
QuikrJobs provides recruiters,
Customised role based job seeker profiles
Easy decision making as result of  role specific information in the profiles
Free job posting
Quikr's pioneering missed call service will help create visibility for skilled workers while also helping recruiters on its platform who are increasingly using the power of internet to source talent.
Talking about the need for such a platform Pranay Chulet, Founder & CEO, Quikr said, "Historically those in low salary brackets have not been targeted by the digital industry but increase in internet penetration across India is an opportunity to change this equation. I believe that empowering every person on the street with a meeting place such as QuikrJobs with current lakhs of recruiters will help boost PM Modi's job creation agenda.  With over 30 million Quikr users, our platform has a different kind of potential that goes well beyond buying and selling. We practice what we preach and we have been catering to our own such needs through our platform."
He further added that, "Our jobs category already had close to  25 lakh active candidate profiles, over 16 lakh jobs listed and we noticed that a significant number of postings on our platform were for blue collar, grey collar and entry-level white-collar jobs. In today's age of hyper localization, the e-commerce industry has also created a big push for blue-collar recruitment and QuikrJobs has become an immediate natural solution for their unique needs."
Quikr's latest vertical, QuikrJobs follows the launch of QuikrCars and QuikrHomes as part of the company's verticalization strategy. Witnessing large numbers of transactions in specific categories, Quikr has been enhancing its product and service portfolio with a deep dive into each important vertical and is the only cross category classifieds platform in India to do so.
About Quikr
Quikr is India's leading cross-category classifieds platform that is used by over 30 million unique users a month. It is present in 1000 cities in India and operates in over 10 categories that include mobile phones, household goods, cars, real estate, jobs, services and education. Quikr operates across desktop, laptop and mobile phones, and allows consumers as well as small businesses to sell, buy, rent and find things across its multiple categories with great ease. Quikr's investors include Warburg Pincus, Kinnevik, Tiger Global Management, Matrix Partners India, Norwest Venture Partners, Nokia Growth Partners, Steadview Capital, Omidyar Network, Ebay Inc.
Visit QuikrJobs for more details.