ET Startup Awards 2015: Hear It From The Unicorns- Quikr, Snapdeal, Ola, Paytm Founders On One Stage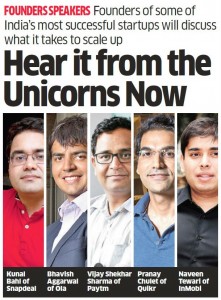 The country's biggest startup awards will be presented at a glittering ceremony in Bengaluru next week, and the event will play host to the founders of India's 'unicorns' — or companies with over billion-dollar valuations — who will discuss the tips and tricks of scaling up a venture.
On the evening of October 12, ET is bringing together a never-before assembled panel to celebrate the spirit of entrepreneurship at the maiden Jio Economic Startup Awards. Seen together on the stage will be Pranay Chulet of Quikr, Kunal Bahl of Snapdeal, Bhavish Aggarwal of Ola, Vijay Shekhar Sharma of Paytm and Naveen Tewari of InMobi.
The awards, which will be presented in eight categories, represent the finest achievement in Indian entrepreneurship. From the startup of the year award which recognises size and scale to the Bootstrap Champ award for building a business without outside funding, the accolades cover a wide range of achievement. We are honoring women achievers, investors with the Midas Touch, startups born on campus, smart innovators, those who combine profits and social good, and the ones with gumption to fail and make a comeback.
The lesson, from the founders of 'unicorns', will be an important guide for hordes of young Indians who decide every day to pursue their entrepreneurial dreams. Scaling a venture in India continues to be a very different proposition compared to more mature, largely Western, markets.
The lack of infrastructure — physical and regulatory, internet penetration and limited reach of financial institutions — have often forced the country's startup founders to innovate, while building their own ecosystems, in order to reach out to the mass of consumers.
These entrepreneurs have founded and built companies that have successfully created large revenue-generating ventures, from being just those with user growth. They are offering services that are, more often than not, seen as essential for the price-conscious, still-maturing Indian consumer class.
In the process, some of them have gone on to provide platforms for millions of small businesses to come online and be part of the ongoing entrepreneurial revolution that is taking place. This, in turn, has forced investors — venture as well as strategic — to sit up, take notice, and then pump in billions of dollars.
Cash-on-delivery, for example, is an innovation born out of necessity in India, where credit card penetration continues to be low. The example set by Indian startups has also been copied by global peers. Stay tuned to ET for more details in the run up to the awards.