Commonfloor Launches SmartGuard for Future-Ready Apartment Complexes
Bangalore, May 29, 2018: CommonFloor, a Quikr company that offers home seekers, sellers and real estate professionals an extensive online real estate ecosystem, today announced the re-launch of SmartGuard solution. A new feature on the CommonFloor Groups app, it will provide residential communities with improvised security features to manage visitor information and enhance residents' safety in the society.
The new enhanced version is based on the recently conducted consumer survey on CommonFloor Groups. It revealed some of the key concerns related to child safety, need for better documentation processes and an easier mechanism to track vendors and visitors that goes beyond manual tracking. This new and improvised feature helps build smarter communities across the country.
The robust, cloud-based online platform transforms security guards into Smart Guards who can connect, communicate and collaborate with residents and apartment associations in a hassle-free manner.
● It is an easy way to manage visitor entry as every information is recorded digitally.
● It allows residents to approve visitors' entry with OTP (one time password), without dependency on intercom.
● It also allows residents to pre-approve hassle free entry for their guests to avoid any waiting time involved in manually registering their names at the front gate.
● It gives real time notifications on the attendance details of domestic help and other staff members, the arrival of school bus and daily vendors, among others.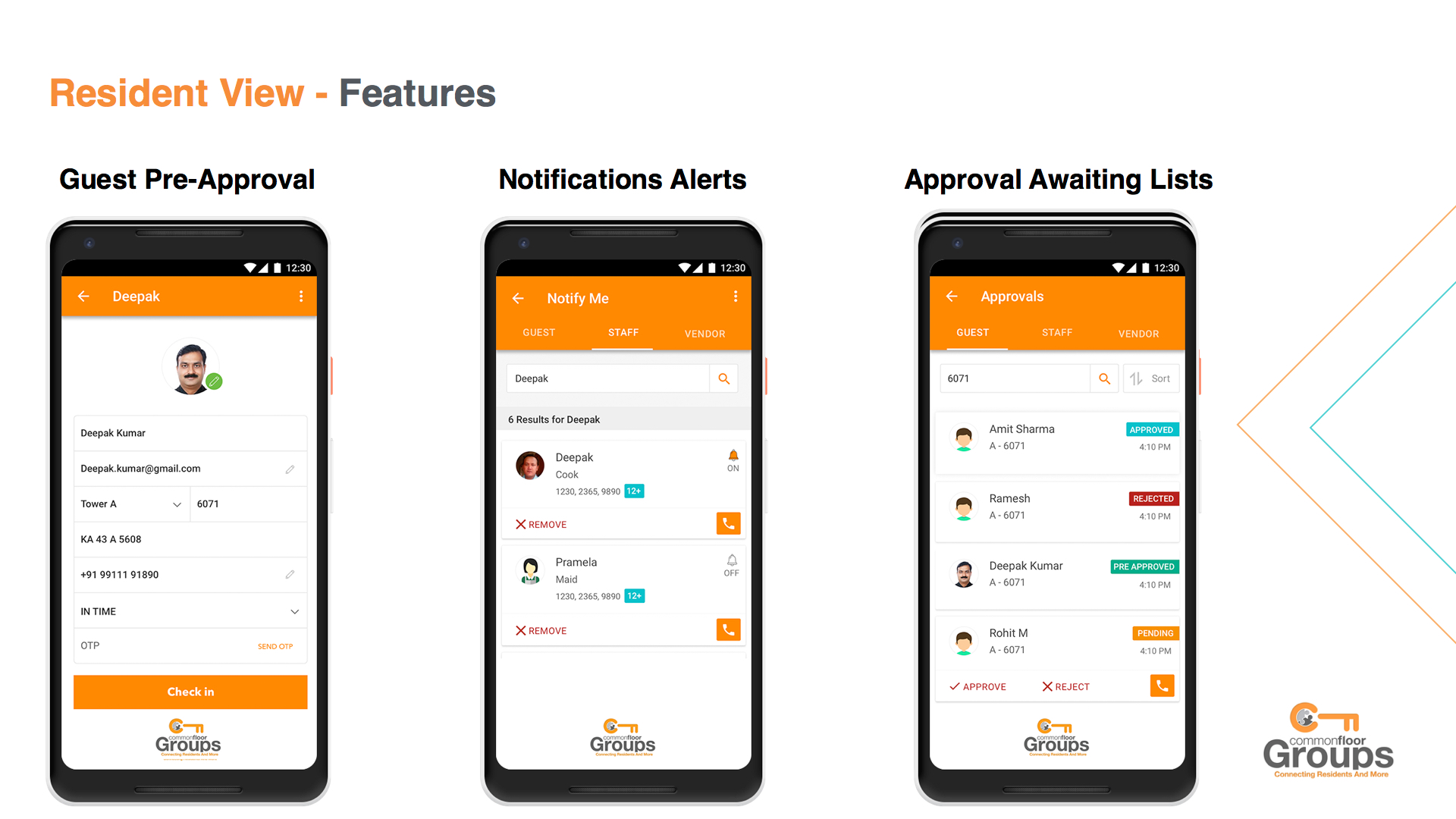 CommonFloor Groups is a platform that brings residents of apartment communities together in order to build a close-knit, digitally well-managed and happy community. Currently, about one lakh+ communities across India are using this app who will benefit from the enhanced apartment safety and security features.
CommonFloor would soon be adding more features like timer options and SOS alerts that will address other unique concerns, thus building a strong firewall for apartment security.
About CommonFloor: CommonFloor is a Quikr company that offers home seekers, sellers and real estate professionals an extensive online real estate ecosystem. This ecosystem innovatively combines at a single stop: Exhaustive search options for both renting and buying property; Easy to use analytics; Apartment and locality reviews; a comprehensive and verified data base of apartments across India; Apartment community management tools. Visit www.commonfloor.com for more details.