Ecommerce in India today is in a better place than ever before. Internet penetration in the country is increasing rapidly and sustainably, a majority of Indians are young and happy to shun the risk-averseness of the previous generations. According to comScore's study '2013 India Digital Future in Focus', currently India has the world's third largest internet user base. This report has also predicted a growth reaching 370 million internet users in the next few years, making India's users the second-largest internet audience in the world. The timing seems right and there is no surprise in the fact that there are so many players fighting it out in the market.
Yet, amidst all the rosy predictions it is important not to lose sight of what is critical for success in this industry. Most e-commerce firms now and in the past, have succeeded primarily because they created tangible value for all involved – their customers as well as various internal and external stake holders. Be it players in international markets or companies in India, each success story rides on the back of a solid consumer insight/need and a business plan that added value to all involved.
A Smart(phone) Country
Even a few years ago, e-commerce in India was a metro based phenomenon, owing to a large internet savvy population with access to internet via their laptops/desktops. The giant leap happened with the smartphone revolution, when the availability affordable handsets with access to the internet helped millions of people in smaller towns go online, and in time become e-commerce ready as well. According to a study by the Internet and Mobile Association of India (IAMAI) and IMRB International report, internet usage in rural areas reached 68 million in October this year and is estimated to cross 72 million by the year-end. Internet penetration in the rural areas has increased tremendously since it is more affordable to buy a smartphone than to buy a computer. For these consumers, their mobile would be their first screen to the internet. This report also states that in India, 110 million monthly users now access the internet through mobiles and this number is expected to rise to 130 million by the end of 2013. With the advent of other mobile devices such as tablets and phablets, increased internet penetration has created numerous new opportunities for e-commerce players in the Indian market. Many ecommerce players are realizing that a one-size-fits-all strategy will not work and we now need to 'think mobile' rather than 'adapting for mobile' and be 'mobile only' rather than 'mobile first'.
Need for Local Innovation
A country as diverse as India comes with its own set of unique challenges. A lot more than just language varies as you go from state to state. Factors like literacy levels, risk-appetite, buying behavior etc vary drastically as one crosses state borders. These could be seen as issues for e-commerce players, but with innovation and local understanding, many have actually managed to sustain consumer's confidence. One such example is what is being done at Quikr with its missed call service. The 'missed call' is a uniquely Indian phenomenon where a person initiates a call to someone they wish to contact, but disconnects before the persona at the other end can receive it thereby saving the cost of the call. Prospective users of the online classifieds platform can give the contact center a missed call, and company representatives call them back, taking down the details and posting the ad for the user. This approach combats both computer illiteracy and the language barrier. Like this, a large number of players in the market also have their own unique ways of reaching out to customers.
Sense of Security
The credit card penetration in India is extremely low even in comparison to other developing countries like Brazil. According to a study by the Boston Consulting Group, an overwhelming 94 per cent of the cards in India are mainly used to withdraw cash from ATMs! Even a few years ago, regular credit card users balked at using it online, owing to various real and perceived security threats. A lot has been done recently to increase security measures and protect users against online credit card frauds. And for the vast majority that has no credit or debit card – there is always Cash On Delivery (COD). A truly unique Indian phenomenon, COD can certainly take credit for the big increase in online transactions in the last couple of years. It has helped bring plenty of new users onboard the online shopping bandwagon. It's as secure as it gets!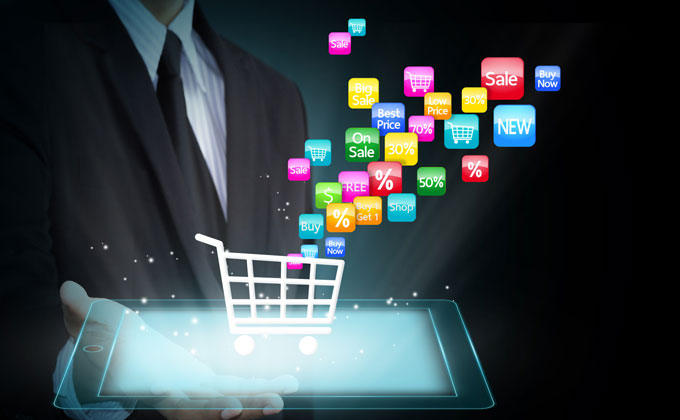 Growth Drivers in e-commerce
Globally, consumers are now shifting from in-store shopping to online shopping because of the convenience of it. A good example of this is what Google has done in India with the Google Online Shopping Festival which roped in several e-commerce players for a three-day online shopping experience. This year, Great Online Shopping Festival (GOSF) was extended by a day after getting tremendous response from shoppers with over a million users visiting the site in the first 24 hours, a dramatic increase since the first edition saw a million users visiting in total during the entire festival. From shopping for household goods to bigger items like cars, bikes and electronics, the e-commerce industry is increasingly providing a faster, better and cheaper alternative to consumers to help them find what they are looking for.
Apart from the obvious B2C element of e-commerce, what is often overlooked is the B2B aspect of e-commerce. For fledgling entrepreneurs and small businesses, online classifieds sites act as a nursery of Indian e-commerce. Setting up a brick and mortar business with efficient delivery models to attract a dedicated customer base can mean a lot of capital infusion for MSMEs. Various online platforms are providing these entrepreneurs with a channel with high margins and zero upfront investments as their marketing outlay reduces significantly and in some cases, they have to pay only after a successful transaction.
Navigating the Logistics
Home delivery is something most middle class Indians are used to on a regular basis given that even the smallest local grocery store delivers things home, at no extra cost. E-commerce companies are also tapping into that mindset. While online stores can use courier companies to deliver their product to customers, there are also specialist companies that handle additional logistics and product delivery for e-commerce. Since cash on delivery is a popular method of transaction, these companies can also offer that service, as well as shipping the product back to the company in case of returns. Coverage of the much smaller towns is still developing and to overcome this hurdle, India Post is exploring the option of providing specialized logistics solutions for e-commerce. If this service of the postal department takes off successfully, online stores would be able to service an even larger number of customers living in remote areas of the country.
Delivering a package is just one of the many aspects of logistics that e-commerce companies have to navigate. Choosing the right payment gateway for online transactions is also important since it lets e-commerce companies process payments quickly and easily while still keeping their customer's money and transaction details secure. Any payment gateway must operate in an efficient and secure manner to gain the trust of customers, so they're willing to hand over their money or credit card details. Another important consideration is the delivery models. Should you set up your own or list on an online marketplace? Simpler websites can be started almost immediately; there are many online services that can be used to create a branded store. Alternatively, smaller businesses may choose to list their products or services on an online marketplace which allows them to build their business on top of these sites' traffic and popularity.
To sum up, a lot of innovation has already happened in the e-commerce industry in India and yet, even more interesting things are in the offing. Going forward, it is essential for the e-commerce player to understand shifting consumer needs, buying patterns and demographic backgrounds. The timing is right and the opportunity is discernible-due to Indian consumers' increasing reliance on technology, unheard of just ten years ago. The players in the digital commerce space just need to make sure they keep their ear to the ground, watch the evolving consumer behavior and respond to it fast. India is one of the most exciting internet markets in the world today and we can expect a lot of action in the industry in the next few years. The winners will be those who spot the big emerging trends first and act quickly!
Article Source – India Now Magazine (Print)