What does the Used Car Market look like on Quikr.com?
Despite the new cars market getting off to a slow start, the used cars market is a thriving one, where for every new car sold, 1.2 old cars are sold. The rate of growth of the used cars market has been in double digits for the past four years or so and is expected to remain the same in the coming years. It has been predicted that in a couple of years, the used cars market shall be 2.5 times the new cars market in the country. The outstanding inventory of used cars is 3.2 million, which fails to meet the demand for them.
The main reason why used cars have become so popular is because of the organization of the market. Players such as Quikr.com have introduced free listings of cars, with as much detail as possible. It allows a user to judge a car prior to paying a visit to check it out. Also, the feature of MSP (maximum selling price) helps a seller get the best price for the car s/he is selling. It has been estimated that the inventory of cars available on Quikr.com across all cities is more than 5 lakhs!
Here is a blow by blow analysis of the nitty-gritty of the online used car market on Quikr.com.
Most Popular Models

Currently in India, Maruti Suzuki India and Hyundai India are neck and neck when it comes to popularity of vehicles. Both companies have the widest service network possible and low cost of repair of models. This has made them immensely popular among the affordable and middle income buyers who want high mileage, compact designs and low maintenance for their cars.
On Quikr.com it has been seen that Maruti Suzuki India is the ring leader for used cars, where the Maruti Swift tops the list of the most traded car, at 15 percent, followed by Maruti 800 at 12 percent and Alto at 12 percent. Hyundai also features on the list at the fifth position, with 9 percent share.
How do used luxury cars perform vis-à-vis middle and affordable ones?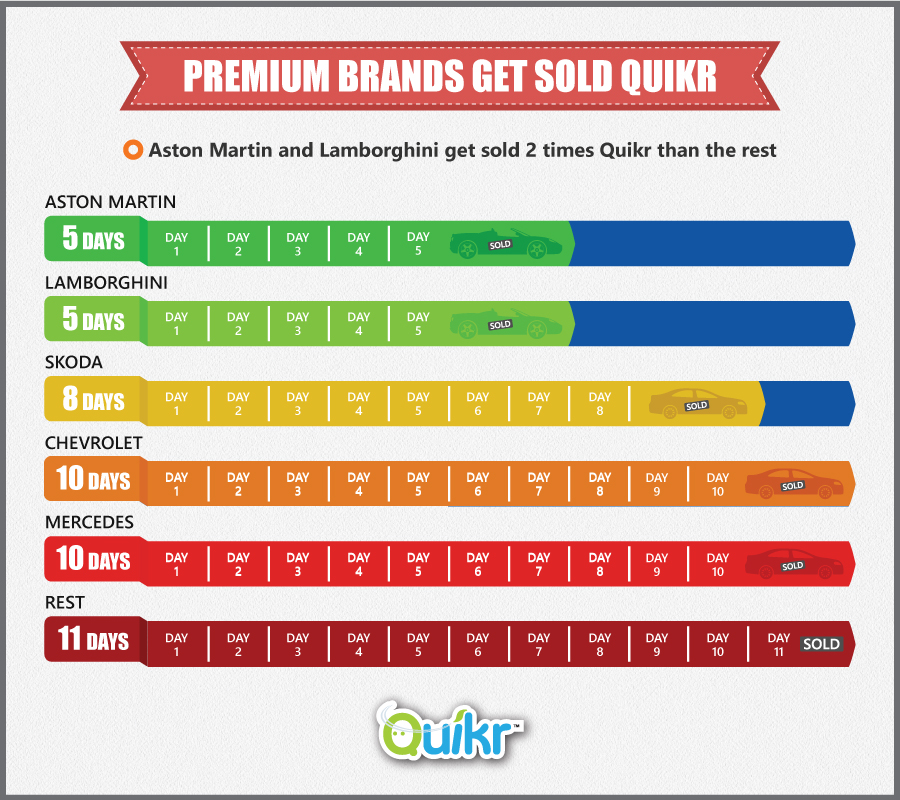 Used luxury cars may make up only 5 percent of the market for used cars, but they are growing at an unbelievable rate of 35 percent. Obtaining finance for them is easier and cheaper than what is needed for affordable and middle income brands. This is because banks view such borrowers as credit safe customers and hence approve their loans. Most buyers belonging to this category update their cars from C Segment models such as Toyota Camry and Skoda Superb.
The top brand which is sold via Quikr.com belonging to the luxury segment is Aston Martin, which is sold within 5 days of being listed. The British car brand is much sought after because it needs to be imported which can set the buyer back by several lakhs of rupees. Moreover, people have a fascination with it for being James Bond's vehicle! The next best is Italian stallion Lamborghini which also gets sold within five days. The other brands that follow suit are Skoda, Chevrolet and Mercedes.
Colours that Buyers love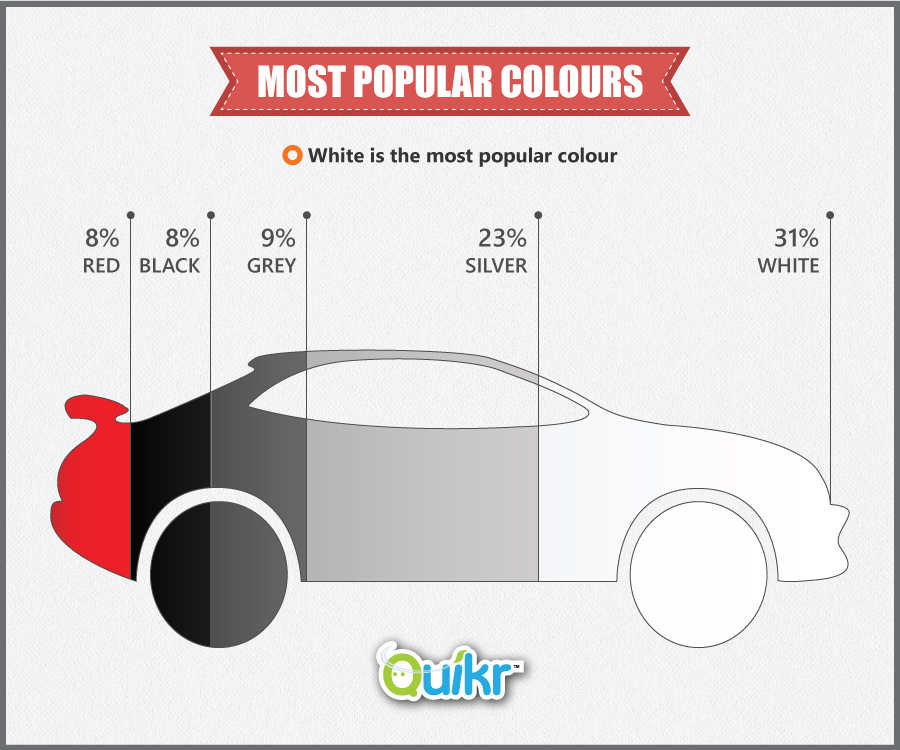 The colour of a car is a big determinant for a buyer. Colours such as white and silver command a premium over others such as blue and red. This may be because scratches cannot be noticed very easily on them. Even when you go to buy new cars, metallic colours command a premium over others.
On Quikr.com, the story is no different, as white is the most sought after colour, at 31 percent while silver trails at 23 percent. The other popular colours are grey, black and red.
Popularity in terms of Fuel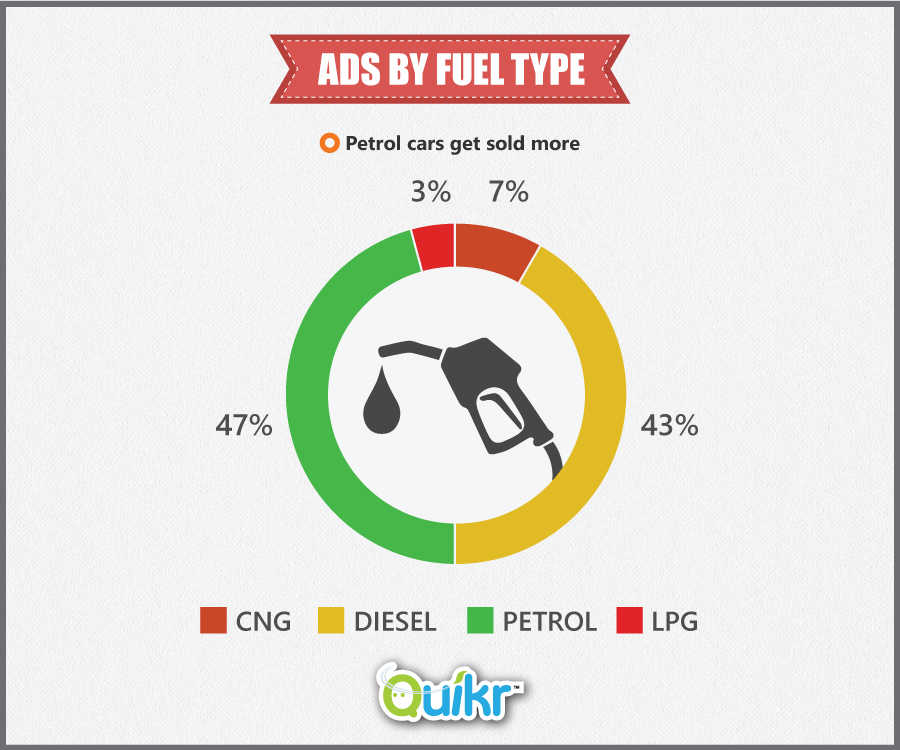 It is no secret that the biggest concern of car drivers is fuel efficiency. With pricing of fuel inching higher up, it is only normal that car owners have to be concerned about fuel. Despite the price of petrol being more and their mileage being lesser, 47 percent petrol engine cars are sold on Quikr.com, almost 4 percent more than diesel operated cars. This may be because the difference in price between petrol and diesel operated cars is close to Rs 1 lakh and also diesel engines get corroded faster due to higher compression ratio. If you are thinking of buying a diesel car, then steer clear if you don't travel more than 50 kilometres in a day, as it won't be worth the expense.
Listings of Car by Mileage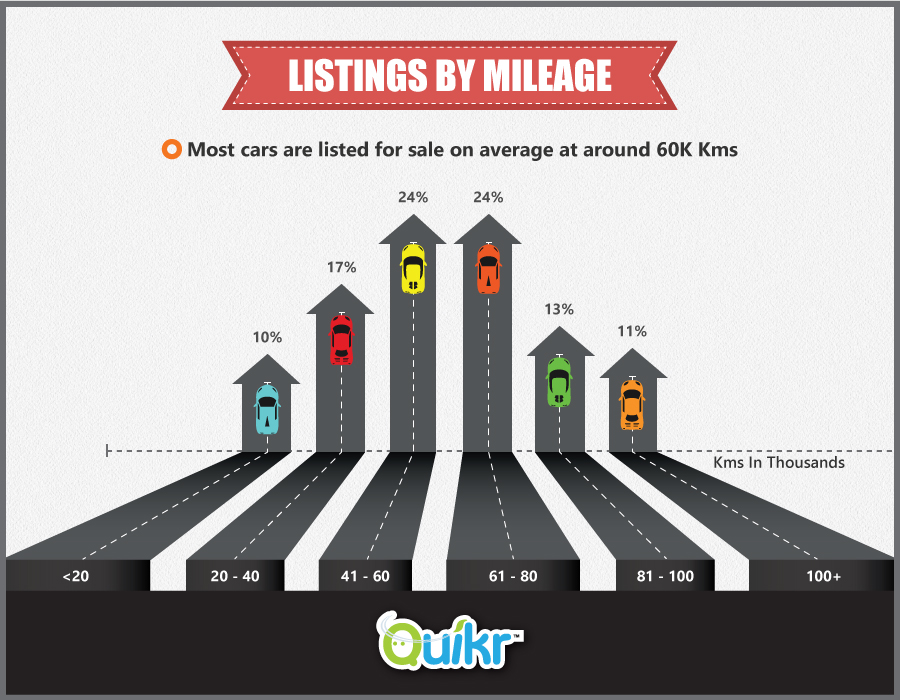 When it comes to listings as per the number of kilometres travelled, the cars which are listed most are the ones that have travelled between 40,000 and 80,000 kilometres (at 48 percent almost). You can find cars with relatively lower mileage at less than 40,000 kilometres (make up 27 percent of the listing) if you make use of the filters for searching the site.
Cities Heading the list of Ads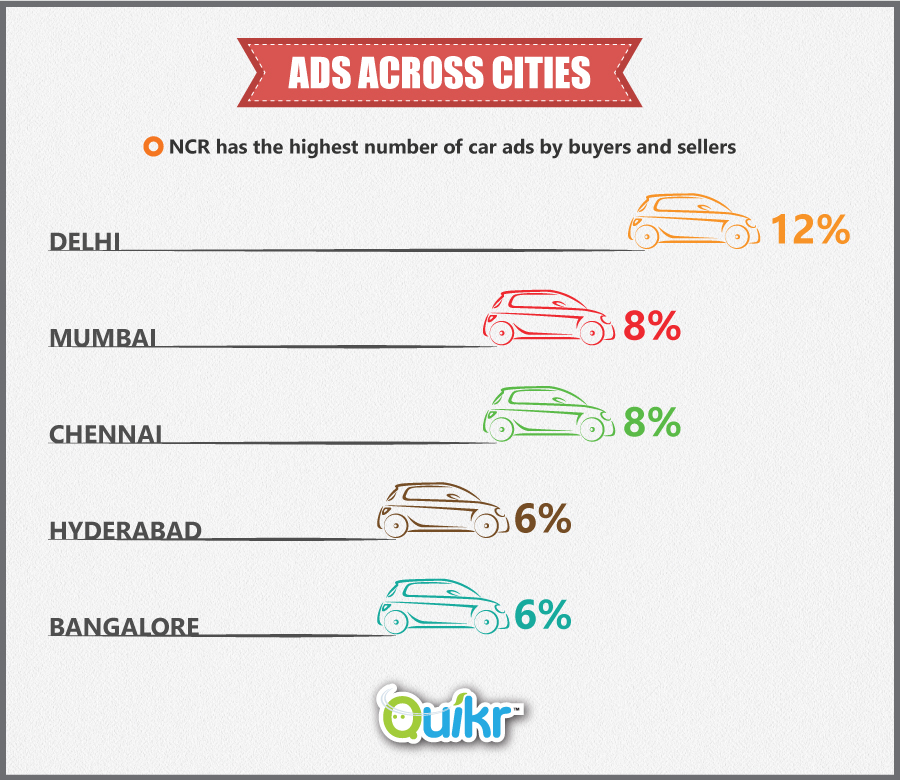 On Quikr.com, Delhi NCR heads the top five cities which have ad listings from sellers and buyers, at 12 percent of the total numbers of ads, followed by Mumbai, at 8 percent. Undoubtedly, the number of vehicles in Delhi is more than that in other cities as the per capita earning of the city is higher than most. Moreover, Delhi covers an area larger than Mumbai (Noida and Gurgaon are included here) which implies that the car listings would be more too.
Price wise Branding
The prices of cars are nowadays decided by sellers through the maximum selling price, which takes into account information regarding the brand, make, year of manufacture and other details to determine the price of the car. It has been observed that Mahindra cars fetch the highest amount, followed by Honda and then Hyundai. On an average, Mahindra cars are priced at Rs 7.4 lakhs, followed by Honda at Rs 6.5 lakhs. Both car brands are premium ones, where the price of the vehicles is close to Rs 8 lakhs (if not more for sedans and SUVs). Therefore, it is unsurprising that these two companies have the highest pricing. Hyundai too has a couple of premium models such as i20 and Verna which command a higher price than their affordable counterparts, Santro Xing and Eon.
How old are the Cars being listed?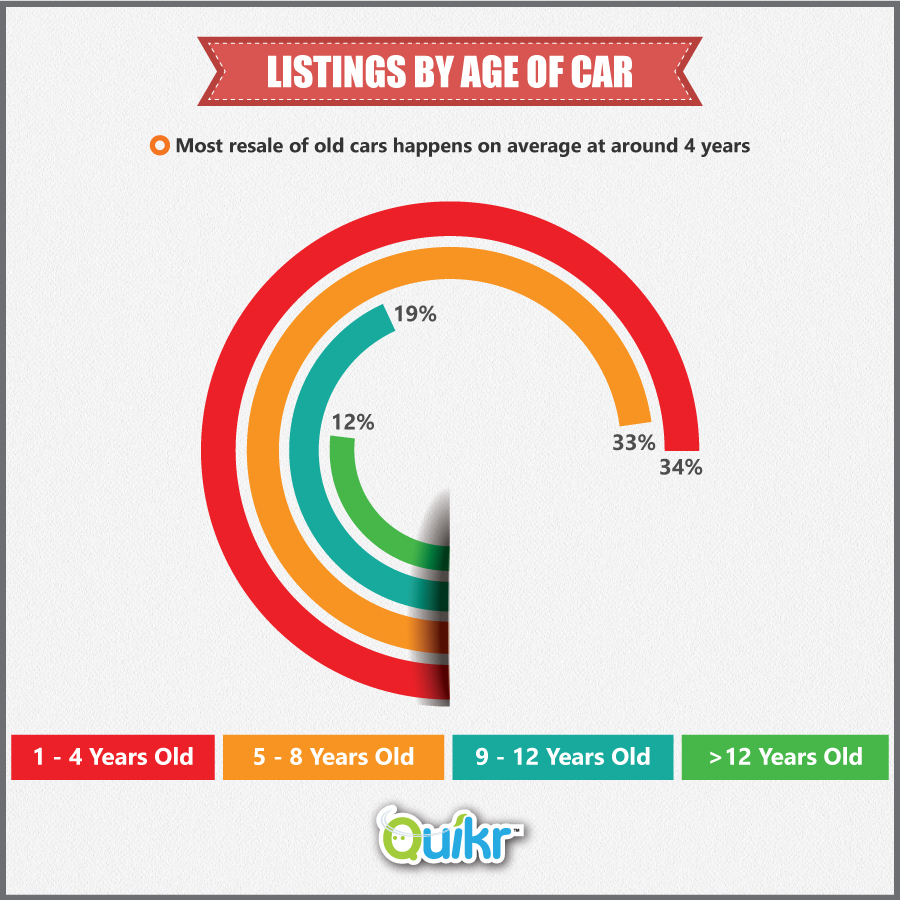 Studies have shown that the average car user does not own a particular model for more than 5 to 6 years, a figure which used to be 7-8 years earlier. This finding is corroborated by Quikr.com where most of the cars listed are 1 to 4 years old (at 34 percent), followed by 5 to 8 years (at 33 percent).