Quikr Goes Vernacular, Breaks the Language Barrier
Indic language support for both browse and post ad options to increase accessibility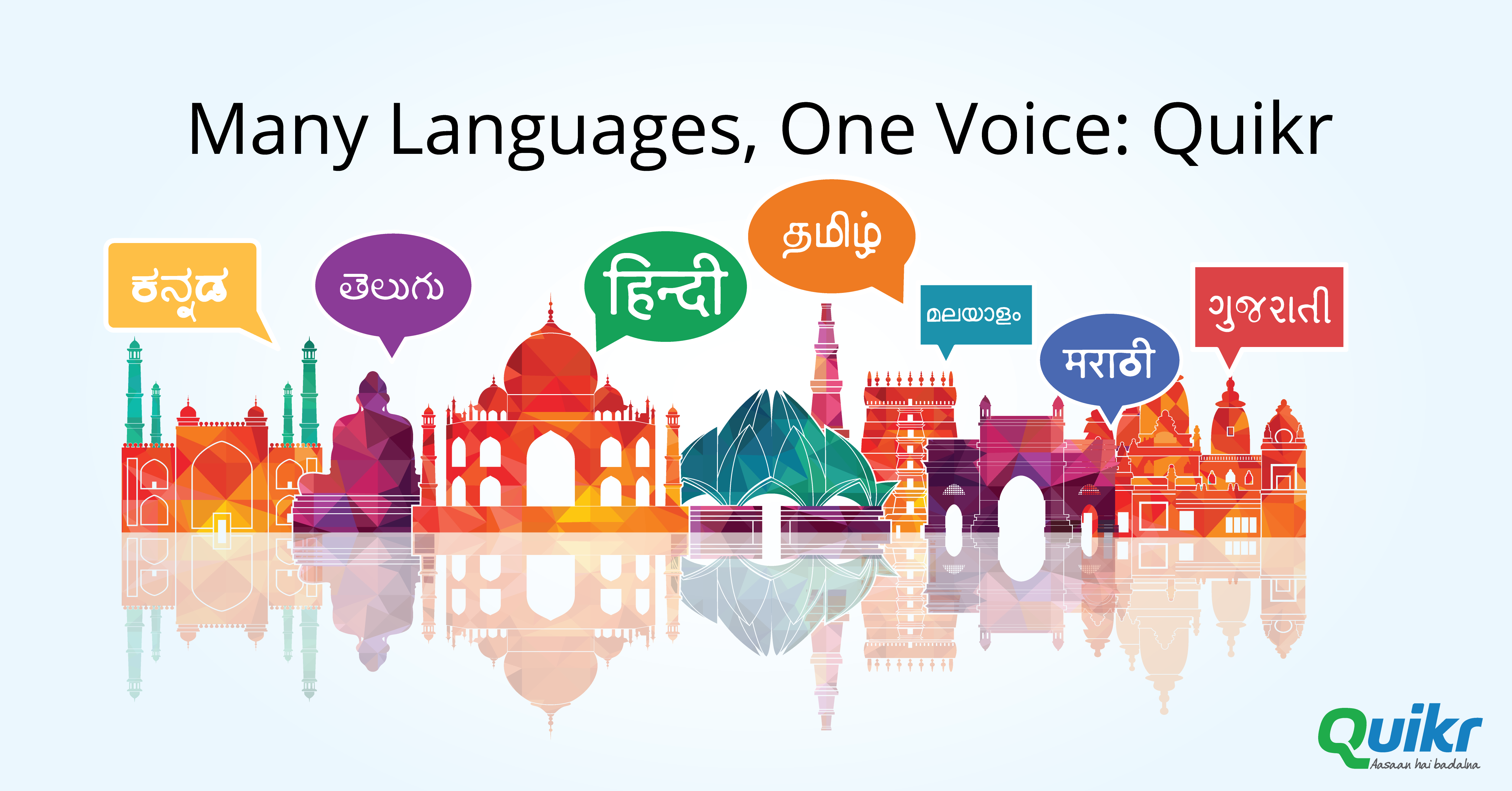 Bangalore, December 16th, 2015 – Quikr, India's No. 1 cross category classifieds business, today announced the launch of vernacular language support for consumers accessing Quikr's platform. Tailored to break the language barrier for India's diverse population, Quikr allows consumers to choose from seven different languages– Hindi, Tamil, Telugu, Kannada, Malayalam, Gujarati and Marathi to browse as well as post ads in.
This new feature allows consumers to browse, search, post ads and interact with buyers and sellers in their language of choice allowing a large number of non-English speaking consumers in India that have thus far been unable to transact online. Quikr has leveraged various technologies to also ensure there is no delay in rendering ads in any of the available languages on the platform.
Talking about the need for local language support, Pranay Chulet, Founder and CEO, Quikr said, "We are a made in India business that has always focused on what the Indian consumer needs. With Indian internet expanding beyond air-conditioned offices and homes and into the streets of the country, local languages are definitely the next frontier for us. I strongly believe that language should no longer be a barrier for people seeking to transact online and am super excited about the strong response our verticals such as QuikrC2C and QuikrJobs have already received in local languages."
Anurag Saran, Chief Product Officer, Quikr said that, "Using technology to empower our consumers has always been at the heart of our innovations. 88% of India's population is non-English speaking. By enabling them to communicate, create and consume content in their preferred languages, we are working towards making our platform a more inclusive online classifieds marketplace."
Quikr will continue to work on adding more languages to the platform and has been a pioneer for several other innovations in the online classifieds space.
About Quikr
Quikr is India's leading cross-category classifieds platform that is used by over 30 million unique users a month. It is present in 1000 cities in India and operates in over 10 categories that include mobile phones, household goods, cars, real estate, jobs, services and education. Quikr operates across desktop, laptop and mobile phones, and allows consumers as well as small businesses to sell, buy, rent and find things across its multiple categories with great ease. Quikr's investors include Warburg Pincus, Kinnevik, Tiger Global Management, Matrix Partners India, Norwest Venture Partners, Nokia Growth Partners, Steadview Capital, Omidyar Network, Ebay Inc.
Visit www.quikr.com for more details.