Quikr Stands Tall in the Brand Equity Survey 2015 by The Economic Times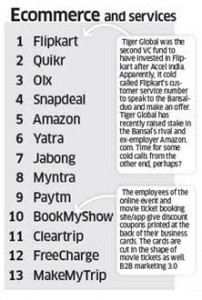 Quikr has been recognized by Economic Times as the #2 Most Trusted E-commerce brand and the Most Trusted classifieds brand in the Brand Equity Survey 2015.
The survey evaluates brands based on consumer feedback across attributes such as Quality, Value for Money, Trustworthiness and Satisfaction.
Conducted by Nielsen, the Most Trusted Brand 2015 consumer survey considered 373 brands and had a design sample of 7200 distributed across socioeconomic classifications, age, income and geography. Ecommerce and Services is a newly introduced category this year.
Read further on Economic Times