QuikrJobs Launches Online-to-Offline Marketplace for Easier Hiring
Launches QuikrJobsPro, a faster better solution for employers to hire and recruitment consultants to scale their business
Bangalore, December 20th, 2016: QuikrJobs has launched a new platform, QuikrJobsPro, a unique online to offline marketplace that brings together a large number of employers and recruitment consultants to smoothen the hiring process typically seen in the industry. The marketplace simplifies and speeds up hiring of candidates by 3x while helping recruitment consultants rapidly scale their client base.
QuikrJobsPro allows employers and recruitment consultants to sign up directly online. Once signed up, employers post their hiring requirements and decide on the fees they are willing to offer. Through algorithmic selection, multiple best fit consultants are assigned each job opening and can submit relevant candidate profiles for it. The online marketplace allows both employers and consultants to track and manage the candidate pipeline online till it results in a final joining event.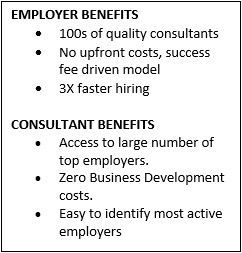 Sharing his view on the need for such a platform, Amit Jain, Head of QuikrJobs said, "QuikrJobsPro plugs a big gap in the portfolio of solutions available in online recruitment, especially for white collar hiring. While recruitment consultants are already working as partners to employers, with QuikrJobsPro, we are going one step forward by allowing them to do so more smartly via the use of technology. Current job portals do a great job of identifying a very large number of potential candidates, but do not help the employers with the long process before a candidate is identified and finally joins."
"On QuikrJobsPro, employers will be able to hire rapidly due to the wide availability of recruitment consultants, and will have the freedom to decide their fees and pay only if the candidate joins. On the other hand, consultants will be able to scale their business by multiplying their client base across the country, build their reputation on the platform and save on business development costs. Both sides will be able to accomplish their objectives faster while reducing their operational overheads by using QuikrJobsPro," he further added.
With hundreds of recruitment consultants and employers already using QuikrJobsPro, the model is seeing significant traction.
About QuikrJobs
QuikrJobs is a platform offering different solutions for Blue Collar, Grey Collar and White Collar jobs across India. It recently also acquired Hiree to accelerate its growth in the White Collar segment. The platform offers an easy to understand role-based search for both recruiters and job-seekers across a range of full-time, part-time, work-from-home and even work abroad options.
Visit www.quikr.com for more details.