Quikr Adds a New Dimension to User Convenience
Leading online classifieds player Quikr has recently added a new feather to its cap through a pioneering association with Google Now Cards. Going by the latent benefits of Google's service, this is set to add a whole new dimension to overall user convenience. Google Now is designed to be an intelligent, exclusive digital assistant to users and offers customized insights, recommendations and query redressal services in the blink of an eye.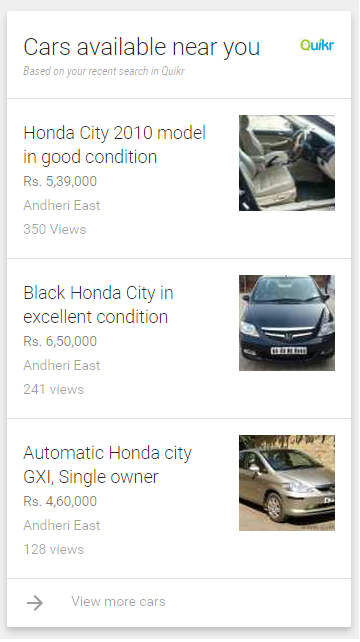 Based on the search preferences of users, the application offers reliable and helpful information on everything under the sun including restaurants, transport, travel, directions, news, stocks and a whole lot more. Google Now Cards applications are readily compatible with both Android and iOS platforms, thereby ensuring seamlessly accessible vital information minus any user effort. Integration with a whole host of third party applications now ensures that users can access their favorite brands and service providers within the wider gambit of personalized recommendations and information alerts.
Now, Quikr loyalists can view advertisements on the basis of their last searched categories, products and services, thereby simplifying the whole search process to a large extent. Available exclusively for Quikr Nxt users, this service is poised to take mobile classifieds to another orbit. Quikr Nxt is a website and mobile app that enables prospective buyers and sellers to advertise and chat with interested parties without disclosing their phone numbers.
The handy app also offers photo sharing facilities for showcasing products to be bought or sold and records past conversations, thereby enabling users to keep a record of multiple conversations at their convenience. This app seeks to do away with the inconveniences and problems related to revealing of personal numbers in addition to constant calls and messages that may hassle individuals at inappropriate times. Additionally, undesirable contacts or conversations can be easily blocked through the app itself. Quikr Nxt has already garnered sizeable ground in this segment and has been well received by a large section of individuals who frequently use classifieds portals to buy or sell products and services.
With the brand being featured on Google Now Cards, users will now be able to receive area and search specific advertisements relating to all categories offered by the classifieds platform including cars and bikes, real estate, jobs, electronics and appliances, entertainment, mobiles and tablets, education and learning and even matrimonial to name a few. This new dimension to the classifieds experience promises to save time and energy in greater measure along with enhancing the overall mobile classifieds experience across both iOS and Android devices.
Buying and selling is way easier now, courtesy the Quikr listings on Google Now Cards. All one needs to do is download the Quikr Nxt application onto his/her device to get started with and experience the multifarious benefits of this service. In line with the brand's advertisement policy, this app can also be downloaded and used absolutely free of cost. Quikr's initiative is a watershed moment in the online classifieds space and the e-commerce industry at large which is steadily recognizing the potency of the age old adage, The customer is always king.